Viewing form data
In
Online Form Widgets
we explain how to easily build forms on your pages. Here we will describe how you can access the data people filled out on the forms. To access the form data, click
View filled-out forms
next to submit button (see the screenshot below).
Note: Depending on the permissions, you can see no, all, or only your own form submissions (see
Permissions
). If you are only allowed to view your own form submissions, the link will be shown as
View my filled-out forms
.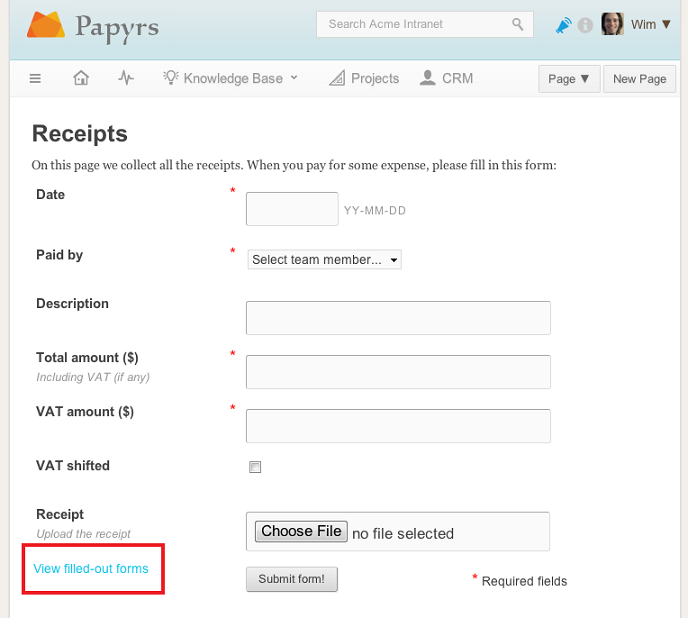 You will now see the form data results, see the following screenshot: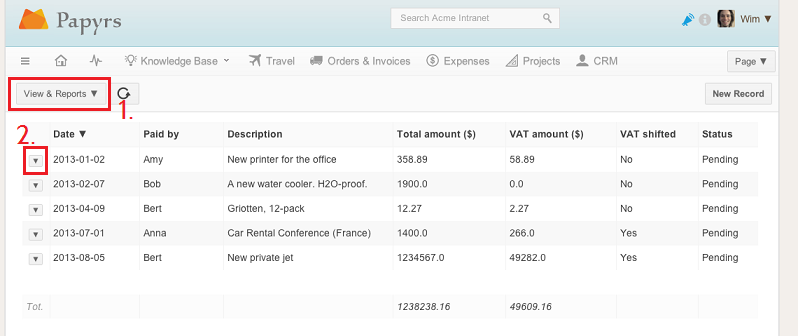 In this screen, you have the following options:
Set the view type of the table.

Table - a small table, with the same width as the page.
Wide table - an extra wide table (wider than the page), to read the results more easily
List - in the list view each form entry is shown in the same format as the form itself

Create a custom report on the form data
Export form data to a CSV format (which can be opened in spreadsheets like Excel)
Edit or remove a form entry (available depending on permissions, see Permissions).
Creating reports
With Papyrs you can create powerful reports of the filled-out forms in a convenient data table. You can add many custom filters to your report, order your results, and include totals for the various fields in your form. Once you have created a report, you can view the data or export it to a spreadsheet (e.g Excel) for further analysis.
Some examples you could use reports for:
Reports on time sheet forms to find out the total number of hours an employee worked on a project
Reports on mileage log form to find out the cost of trips this month
Reports on survey forms to find out how many people rated the service as Good
Reports on receipt forms to find out the total amount of VAT paid for the first fiscal quarter
To create a new report, go the
form data view
, and click
Create report
. In your report, you can set filters, total rows and sort by options.
Filters
You will now see a list of fields in your form. For each field, you can set a filter. For example, you can add a filter on the date: "Date after April 4th, 2011".
To create your filters, you can use the following expressions:
> - Greater than
< - Less than
≥ - Greater than or equal to
≤ - Less than or equal to
= - Equal to
!= - Not equal to
≤ .. ≤ - Between
The type of expressions and values you can use depend on the field. For example, if you want to add a filter so that a date field is between two dates, Papyrs will automatically show two calendars from which you can pick the date. In case of a choice field, an auto-complete input bar will help you pick a valid value to compare to.
Totals
You can also add a total row to your report, to include totals of certain fields. Check the fields you wish to see a total value for, under "Show totals for". Papyrs will automatically figure out if the field contains text, numbers, or both.
Sort by
You can also sort the results. By default, the results are sorted by their "Created at" date.
Example
In the example below, we have a page (called Receipts), with a form with a few fields relating to collecting receipts. We are now creating a report with the following filters:
The form was submitted by Wim
The date of the receipt is larger than April 4th, 2011.
The status of the receipt is Accepted.
We also tell Papyrs to sort the results by
Created at date
(default), and show totals for the
Total amount
field: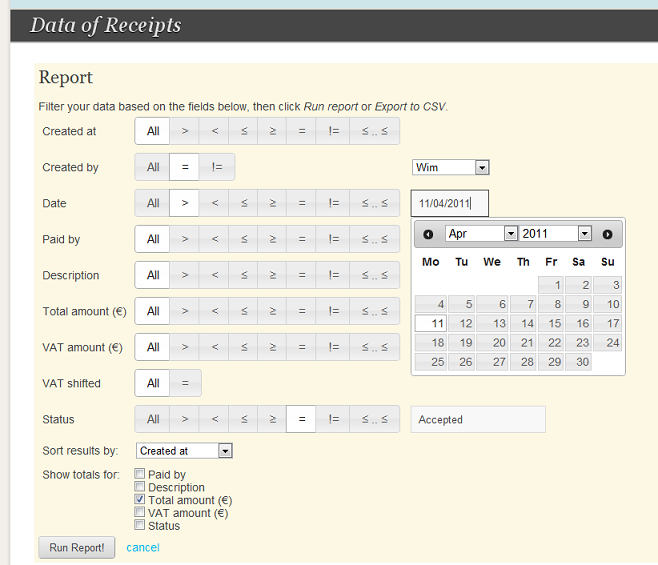 Finally, when your filters are set, click
Run Report
. The result with the example from above looks like this:
Click
Export to Excel
to export these results to a CSV file.