Build a beautiful tailored company intranet
A virtual HQ for your team to discuss, share, collaborate, stay in the loop and find answers. Whether you're in internal comms or engineering, it's designed so anyone can contribute with an easy-to-use editor, Papyrs' secret sauce.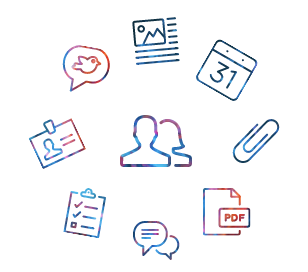 Unlike traditional corporate intranets, there's no need for IT to customize it the way you want 👩‍💻. Lightweight, but flexible.
Add widgets for everything to your pages, like polls, embeds, checklists, forms, videos, tables, files, calendars or badly lit office party photos.
Super-simple. It's just drag&drop! More of a power user 🤓? Edit like a pro with a keyboard command palette and Markdown mode.
More reasons why teams use Papyrs
Secure and reliable
We're security nerds and privacy purists. There's no cookie banner, because we don't track you. We speak
GDPR
and
security
is our top priority.
Enterprise-ready
Beam me up already! Safely deploy a Papyrs intranet across your organization with SSO (like SAML), 2FA, audit logs and more.
Scales with your business
Tiny team? Just throw anything in for quick access. Mega monopoly? Add subsites for departments and teams.
Personal and fast support
We all work on support, including the founders. That way you'll get a (fast!) reply from people who care about fixing issues and improving the service.
Work remotely
Distributed team, digital nomad? Access your wiki from anywhere and work from home or remotely, from Australia to Antarctica (yes we tried).
Built for busy people
Nothing to install or maintain; fully hosted (SaaS). We take care of cloud hosting, uptime, backups, and so on. No "contact us for a sales pitch". Get up and running today.
Extremely boring = good
Yes, this version is completely new, but we've been around since '11! We're privately held and not going away. We're proud of our
availability track record
.
Risk Free Trial
Sign up now for our free 14-day trial, no obligations. Your trial site comes with templates and examples so you can dive right in.
No technical knowledge required
No need to ask IT or consultants. Use our flexible editor to create the pages you need with drag&drop. Pick colors and style to match your branding.
Access levels
Ensure people only see content they have access to with straightforward permission settings.
All batteries included
Version history, theming, notifications, find-as-you-type search, markdown support, (
auto
)mobile apps and
much more
.
IntranetV2
Intranet software
has that clunky 90's software vibe to it. Papyrs is a modern take on wikis/intranets, with an easy interface for both technophobes and power users.