What is knowledge management software?
Knowledge management software helps run businesses by helping employees to accomplish a wide range of tasks while keeping track of vital milestones and goals.
The possibilities are wide in scope; to name a few applications, you could use it to help innovate your products and processes, train-up employees, communicate your products and company goals to customers, and run your day-to-day business in a pleasant and efficient manner.
Having a comprehensive knowledge management software that consists of multiple different tools (not just a single spreadsheet) helps you:
Complete your projects on time, and on budget
Stay organized and informed
Communicate efficiently with customers
Roll out and share knowledge in your teams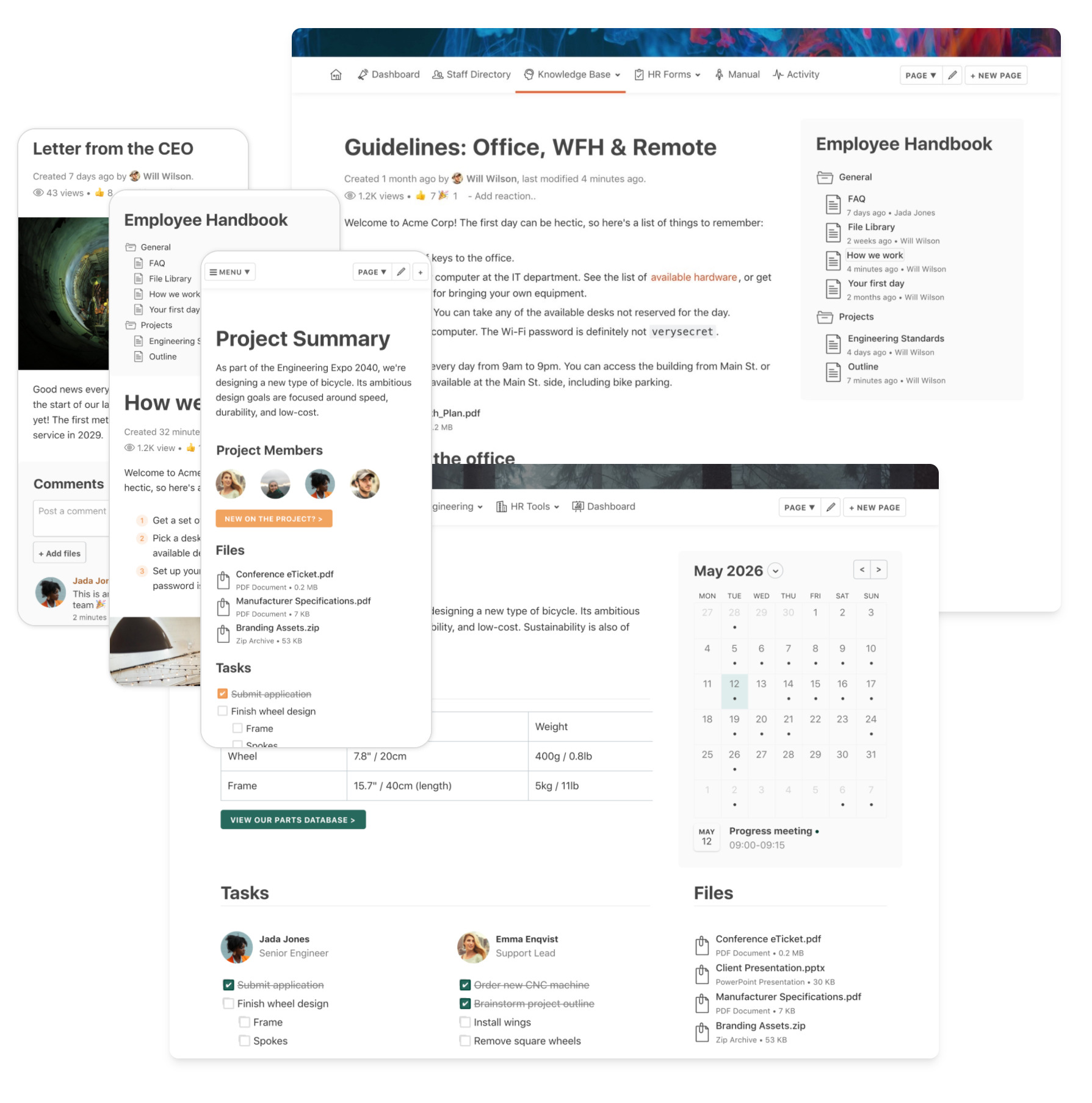 Papyrs as the knowledge management tool of choice
Keep everyone in your company up to date on the latest projects, strategy, company news, and even your team-members birthdays and other special occasions.
Papyrs intranet pages let you do all these things, and it's so simple to use that it doesn't get in your way while you do these things. Drag and drop-in calendars, attachment notes, blogs, checklists, social media, tables, code, or plain text to let people know anything you them to in the way that suits you best.
Full control over your information
Papyrs lets you use subsites, so you can fully control who has access to which information –you can give only certain people access to edit the information, give everyone free-for-all editing and access rights, or anything in between.
This allows you to set-up your main company's entry page so that only one or two people can edit it, so you keep control over what is shared with everyone and when.
But you can also set-up team project pages, where people can share whatever they want, however they want and whenever they want so that your teams can stay informed and meet their goals.
Both scenarios can be set up within minutes by anyone (with the appropriate access) - you don't need special training, no lengthy installation processes, no IT consultants or setup processes to get started. It works from any modern browser and is fully hosted - so you don't need an impressive IT landscape to run your ideal knowledge management software environment.