1. Modern and easy-to-use design
Any internal platform is meant to save time, and people need to trust they can always turn to the intranet to find answers. Likewise, it's important anyone can contribute by posting documents and ideas, so information is always up-to-date and everyone stays on the same page. Basically, an internal site is only useful if everyone actually uses it.
That's why we've designed Papyrs to be incredibly easy to use for people in any role in your company. Whether it's used by marketing, sales, HR, support, administrative assistants.. the interface is designed without assuming any technical knowledge or need for technical training (although we've made sure it works great for IT and engineering, too!). That not only includes occasionally browsing the site for news or quickly looking something up, but creating and editing content as well. We've designed the editor from scratch with a familiar user-friendly drag&drop interface so it's easy to add information.
Even the initial set up is easy. There's nothing to install or configure or ask IT for, everything works right from your browser. Just start a new trial to create your internal site, pick a logo and color scheme to match your company's branding, and start adding content. We've also included plenty of templates and examples to get started.
2. All-in-one internal portal
Many platforms seem to fall in one of three categories: either it's enterprisey (complicated, complex and costly) corporate intranet software, a simpler but rather technical internal wiki solution, or a note-taking and sharing tool for which just isn't really suitable for companies.
Papyrs is the perfect blend of an effective knowledge base, simple wiki, and flexible intranet portal site. Like internal team wikis and knowledge bases, it works great for plain text documents, technical manuals and notes. The page editor allows for sharing much more content than with simple wikis, however. Papyrs includes a rich library of widgets which you can simply drag&drop to your internal pages to share anything you need. For example:
Documentation: Text, Headings, Tables, Table of Contents, Code snippets, Navigation
Collect Data & Process Workflows: Form Fields for text, dates, dropdowns & Database views
Media sharing: Images and Photo galleries, File uploads, Videos, Embedded PDFs
Managing Projects: Task lists, Voting on ideas, Calendars
Social & Collaboration: News, Discussions, Polls, Buttons, Reactions, Social Media embeds
This way you can create beautiful dashboards, internal blog posts, HR forms, custom databases, and other pages with rich visuals with the same ease as writing a text document. For example, we use Papyrs to share all internal information, but also use it to power customer help pages and the product blog.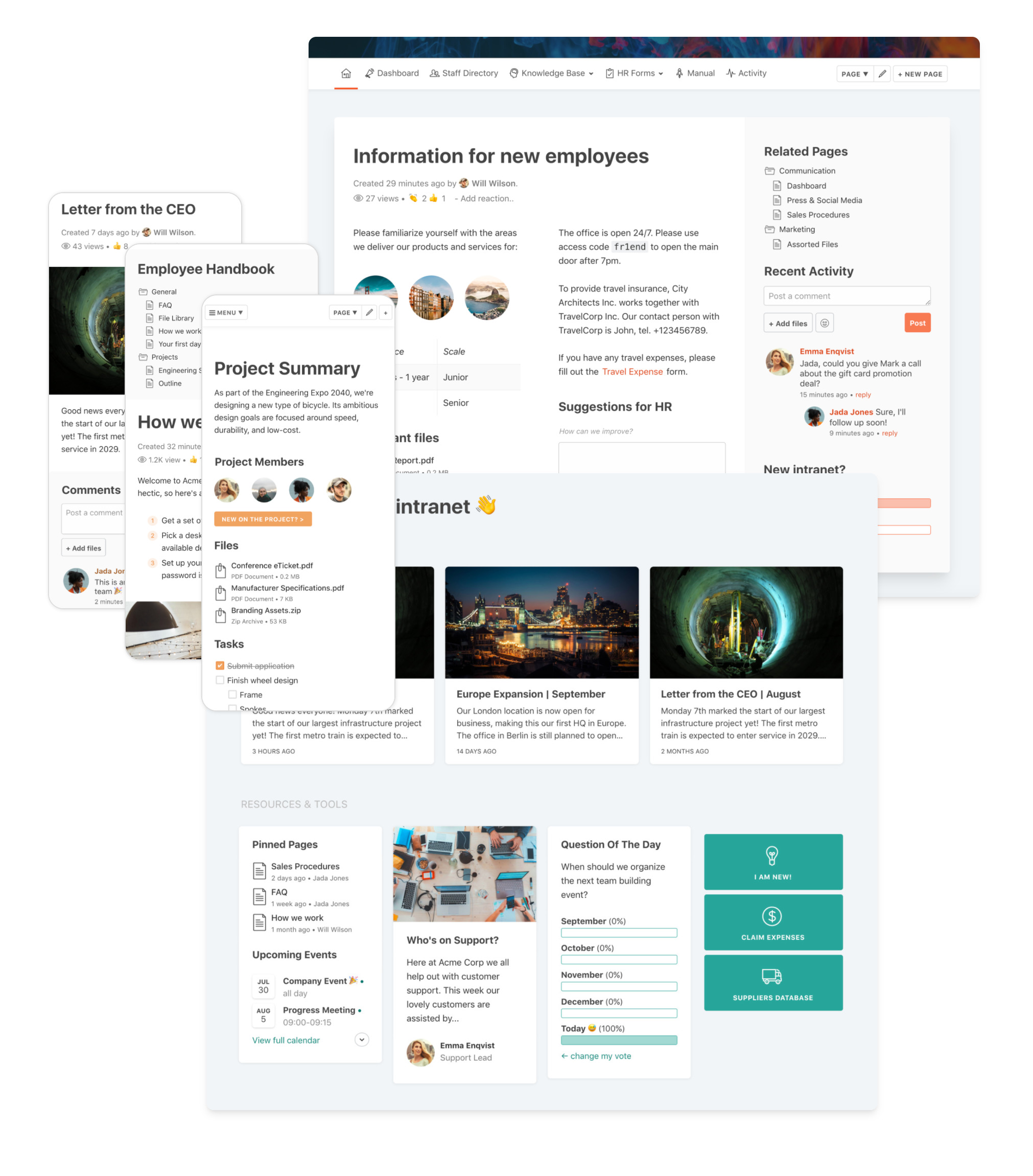 3. Scales well for any company size
Some products work great for huge enterprises but are too complex for small teams. Others work great with 10 people, but don't have the features, permissions and management settings required for large companies.
With Papyrs you'll get best of both worlds. Each Papyrs intranet site can be split up into multiple subsites. The user interface for a subsite is easy to use and simple to navigate. Each subsite is a collection of pages and a group of people who can access it, next to some other basic settings such as a banner image and menu bar for navigation. Small teams can simply add all information in one subsite. The larger a company becomes, the more subsites can be created, around departments, teams, projects or topics. This way a Papyrs intranet site scales from small teams to large companies with thousands of people across different continents, all while keeping permissions and access management easy to understand.
Subsites can also be set up to allow everyone within an organization to join them automatically (useful for company-wide general information). Other subsites can be completely closed off, like business critical information for management. It's also possible to share subsites with external people (like a client portal), or even make one public (like product support portals, public forms or extranets).
4. All batteries included
Compared to simple note taking or wiki solutions, Papyrs is a very feature-rich and complete online workspace. Unlike traditional complex intranet software though, it's designed in such a way that features and settings you won't use don't get in your way. From the rich widget library in the page editor to special features for power users (like keyboard shortcuts and Markdown mode); it's there if you need it, without cluttering the experience for people who need to share a quick note or simply look something up.
We like to say Papyrs comes with all batteries included, meaning all features you need for a rich intranet portal are there. Next to the page editor, there's functionality like a powerful search function, version history, staff profiles, access level permissions, mobile access, themes & branding, notifications, folders and tagging, audit logs, and much much more.
Papyrs works great as a stand-alone tool but also works well with most other apps you might already use. Admins can easily set up integration with tools like G Suite and Slack from the settings panel. There's also support for Single Sign On with those platforms, as well as support for SAML and Active Directory (LDAP) for Windows networks/Azure. Further customization and integration is possible for developers using the API. And of course there is support for custom domains (CNAME), so you can access your organization's Papyrs site at something like intranet.yourcompany.com. All these settings are just a few clicks away for Site Owners.
5. Dependable
We think another important feature of any business software (like a wiki, intranet or knowledge base) is that it's dependable. With that we don't just mean that the software works, but also that it's dependable from an organizational standpoint:
Support: We offer quick support. Nothing is more frustrating than waiting for days for an answer or not getting a reply.
Taking care of your data: We let Site Owners export a data backup at any time. We're proud of our availability numbers. Security is our top priority.
Privacy: We actually care about things like GDPR compliance, not tracking you, taking privacy seriously and erasing data when you leave. Too many companies simply include the word GDPR on their frontpage while the software itself includes dozens of trackers, marketing tools, external chat and support widgets to which they all send your data. It's not opt-in, likely not compliant at all, and it's against the spirit of what GDPR was set to accomplish.
Private & stable company: Since we've launched a decade ago, we've seen many intranet/wiki solutions come and go. We're bootstrapped and have been profitable for over a decade. Not having taken any VC investments means we don't need to chase arbitrary growth targets at the risk of product or company stability. We'll still be here many years from now and only have one important stakeholder: our customer base.
Great feedback from our users. Companies from all around the world love their Papyrs intranet sites. We're proud of our 5-star average ratings on marketplaces like the G Suite Marketplace and Capterra (see Papyrs reviews for more).