What is a client portal?
A client portal (also called client extranet) is a secure site where your company can share information, documents, forms, files and so on with customers and other external people. It's similar to an intranet site or internal knowledge base, except it's used to communicate and collaborate with customers in this case. It's great for clients because it presents all information in a central place. At the same time a client portal saves both parties a lot of hassle and time emailing back and forth files, prevent discussions getting lost in email threads, reduce the number of tools and overhead and make it easy to control who can access what (improving privacy and security).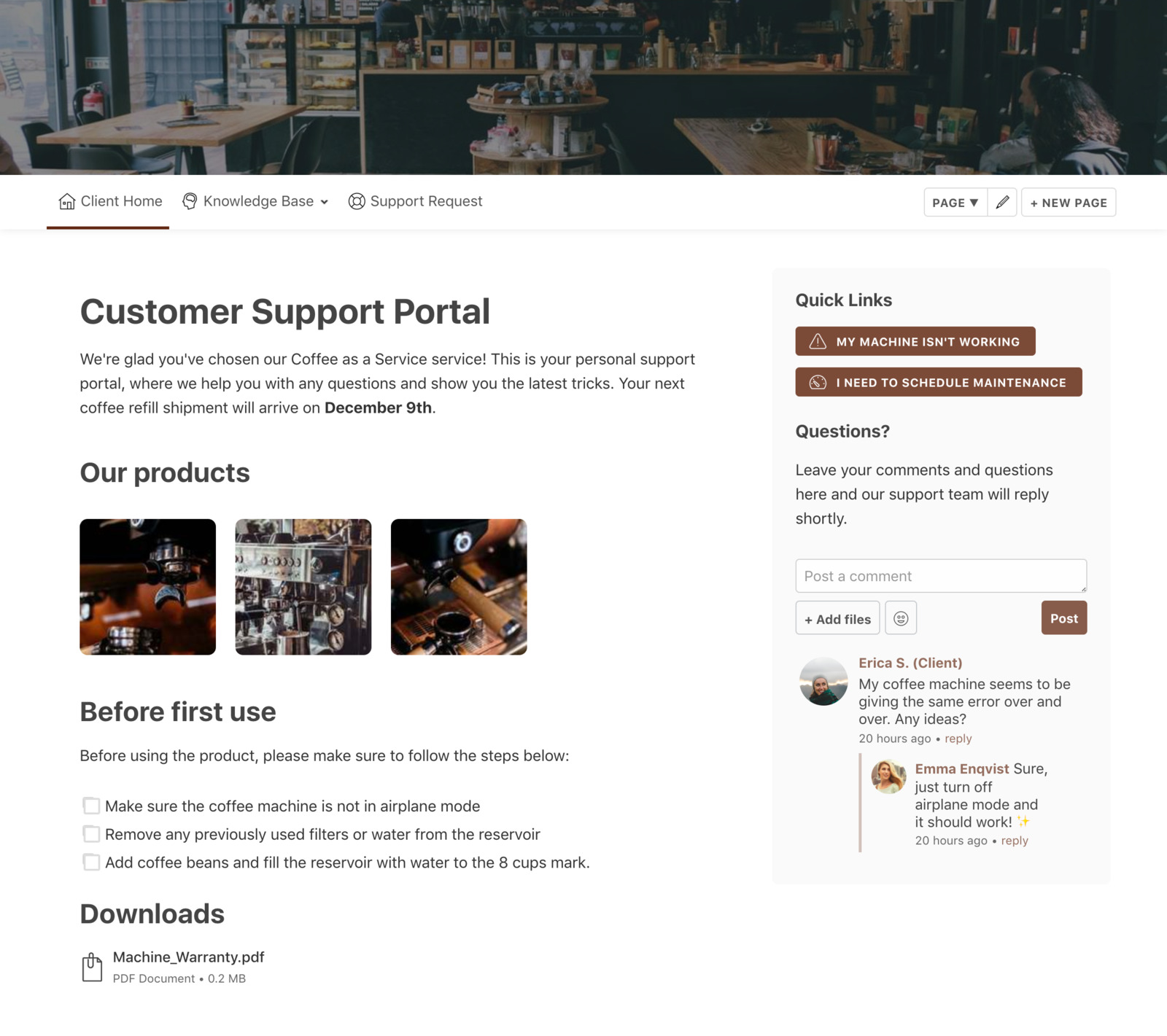 Why use Papyrs as a client portal?
Papyrs is designed to make it easy to create secure portals to share internal information. In many cases this is with internal teams and colleagues, but of course we often need a way to securely share information with customers or other external people as well. With Papyrs that's easy to do; just create a subsite with clients instead of co-workers, or even share it with the public.
Accessible from any browser or device
No need for your clients to configure or install anything. They'll get an invitation email and can access their client portal right away on their PC, Mac, tablet or phone.
Branding and theming
Easily pick a banner image and color theme to match your brand or that of your customer. To further make use of your own trusted branding, even though your client portal is fully hosted by us, you can still use your own domain for your customer site, such as portal.yourcompany.com.
Subsites
Another nifty feature in Papyrs is the ability create subsites. Each subsite of your portal is a collection of pages and people. That way you can create a subsite for each customer and support multiple customers at the same time, without them being able to access each other's data. Of course you can also use subsites for your entire team. Because Papyrs is both an intranet and extranet solution, your entire team can use Papyrs to securely share internal information in subsites with staff-access only, while sharing other subsites with clients. Each subsite can have its own colors, menu bar and banner image, so you can customize it further for each individual client.
Simple permissions
Being confident about the correct permissions is important for the client's privacy and GDPR compliance. As mentioned above, subsites make it easy to give each customer access to their own portal. Permissions are very straightforward this way: just by seeing who's member of a subsite, you'll know who can access what. Depending on the kind of project you're working on, perhaps you want clients to be able to make changes to their portal and post content themselves as well. With Papyrs this is easy: make them editor to allow them to upload and post their own material, or viewer if things should be read-only.
Notifications
No need to communicate over email, phone and IM when updates are available. Papyrs can send real-time or digest (summary) notifications whenever something new has been posted (like a page update, new comments or discussion).
Search
Sharing a lot of pages and files? No problem! A built-in find-as-you-type search function makes it fast for clients to find anything back in their portal.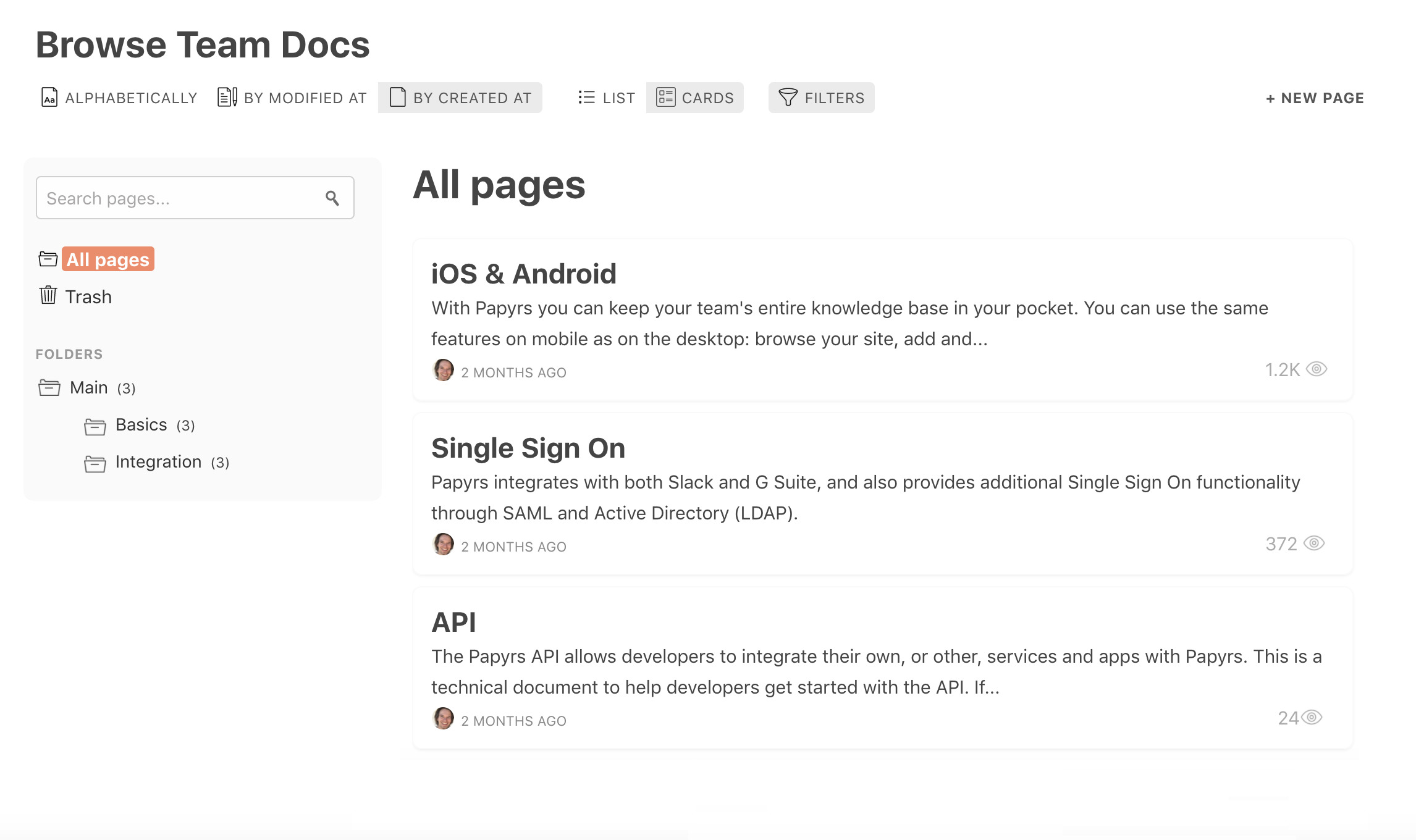 Sharing all kinds of content types
Create as many pages as you need in the portal for your client. The page editor in Papyrs is super-easy, so everyone in your team will be able to use it, no technical knowledge required! The same goes for your clients (if they have access permissions to edit and create, of course). To make sure the portal is versatile enough to work for all kinds of projects and products, the editor includes dozens of widgets you can drag to pages, allowing you to share whatever you need to share or collaborate on, such as:
Documents

Type documents directly from the page editor with a familiar What-You-See-Is-What-You-Get interface.

File attachments

Add attachment widgets to drop files and deliverables to your pages and securely share them with your clients.

Custom online forms

Need to collect feedback? Want to take a survey? Want customers to fill out a form for your next project? Use the same drag&drop editor to add whatever form fields you need, and collect responses (we create an online database for you automatically based on your form fields).

Discussions and Polls

Communicate directly with clients by adding a discussion area or other interactive elements like a simple poll or a widget to vote on ideas.

Calendar and checklists

Drag a calendar to your page to communicate deadlines and project roadmaps. Add checklists to show pending or completed tasks.
Whatever client portal you need...
Because of the flexibility of pages you can create with Papyrs, you can use it for all kinds of communication with clients or people outside your organization:
Product support & Knowledge Base (like our own product support KB!)
Secure client customer support portal
Internal Communities
Secure File sharing
Members-only Newsletters / News
Share proposals with prospects
Invitation-only information site
Project collaboration pages
Membership sites
Product release notes & Roadmaps