Create an intranet site with Papyrs
An intranet site is useful for many reasons: it's a central place where everyone in your organization can work together, share and discuss information and documents.
Just like creating a normal website, setting up an intranet used to be a very technical endeavor, which required programming or other technical knowledge. Thankfully there are plenty of tools now that allow non-technical folks to create their own site. We think this is also important for intranet sites used at work: people who need to use the intranet daily know best what it should look like, and how it should work. Papyrs allows you to create an intranet site for your company, with simple drag & drop.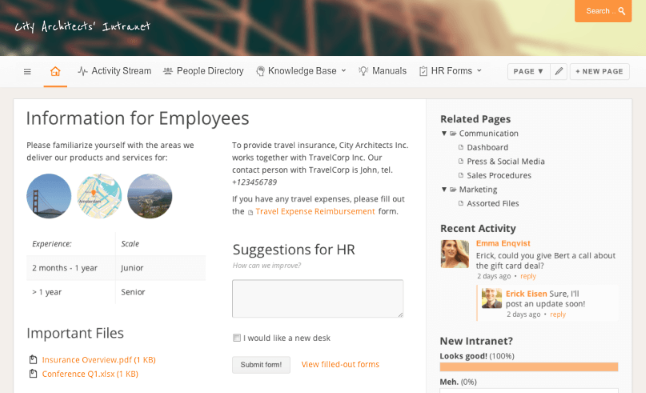 Papyrs was specifically built so it could be used by non-IT people to build their own intranet site. It comes with a WYSIWYG (what-you-see-is-what-you-get) editor, and allows you to build pages by dragging and dropping widgets. There are some very important distinctions between a normal website, and an intranet site, i.e. a site where people in a company or organization can work together. That's why we didn't design Papyrs as a website builder, but as an intranet site builder from the start:
User-friendly interface and design to allow people to create and edit rich intranet pages.
Rich text editing, image galleries, file attachments and many widgets like checklists.
Integrated social features, like an activity stream, people directory, poll and social media widgets.
Use the same drag & drop interface to create custom online forms directly on your pages.
Collect form data and create reports. Use form workflows to process requests (like expense reimbursements).
Great integration with Google Apps. This makes it a great alternative to Google Sites, if you're looking for an easy but more complete intranet solution for Google Apps.
Flexible layout and theme editor to make your intranet match your company's style.
Powerful find-as-you-type search, which searches through pages, comments, files (documents and PDFs), user profiles and form submissions.
Flexible permissions. Run your intranet open or closed, and specify who is allowed to view and contribute to what.
Integration with 3rd party apps using HTML widgets.
Share or publish pages to create an extranet.
Create template pages and clone them when needed.
Not using Papyrs yet? Give it a try — free trial!
Not using Google G Suite? No problem — Papyrs also works without: