Creating an Intranet Portal & Company Dashboard with Papyrs
What is an Intranet Dashboard? It's the place where everybody in your organization can see what's going on. It's also a digital water-cooler. Think of an Intranet Dashboard as the internal homepage for your company.
Papyrs makes it incredibly easy to set up an intranet portal for your company. No technical knowledge is required, so you can just focus on the content you wish to share.
Not using Papyrs yet? Give it a try — free trial!
So more specifically, what is the purpose of an Intranet Dashboard?
It has important navigation to all the sections of the intranet. It links to Employee Portal. To the Internal Wiki. To external websites and to other internal tools your company uses. And, of course, the dashboard should link to the different divisions and workgroups within your organization. It's a company hub to all relevant information.
It has a calendar with upcoming events. Let everybody see at a glance what events are coming up. Papyrs integrates with Google Calendar, so your Papyrs calendar events automatically show up on your smartphones and tablets. Papyrs is the #1 Google Apps Intranet after all.
Show what's new on the Intranet. When new page and new information is added to the Intranet people have to know. So add a widget that automatically links to the most recently created (or modified) pages. Easy.
A place for Company News and Internal Blog Posts. Make announcements, poll employees, or simply give updates on the company vision and recent achievements. The dashboard is the natural place for all this information too. It can also function as a notice board.
Search. It almost goes without saying, but the entire intranet should be searchable. Papyrs has Enterprise Search -- it searches through files, contacts, pages, cloud documents, forms, directly from the dashboard. Results show up as you type.
Open up the intranet with Discussions. Let everybody participate and share ideas. Let people see the most recent discussions right on the Intranet Dashboard.
You'll find that communication and collaboration goes a whole lot smoother with good Intranet Dashboard software in place!
Example Intranet Dashboard Pages
Need inspiration? Check out these Intranet Dashboards, created with Papyrs: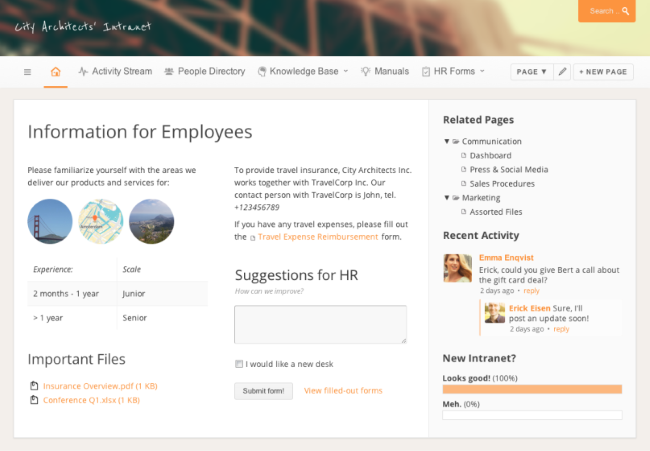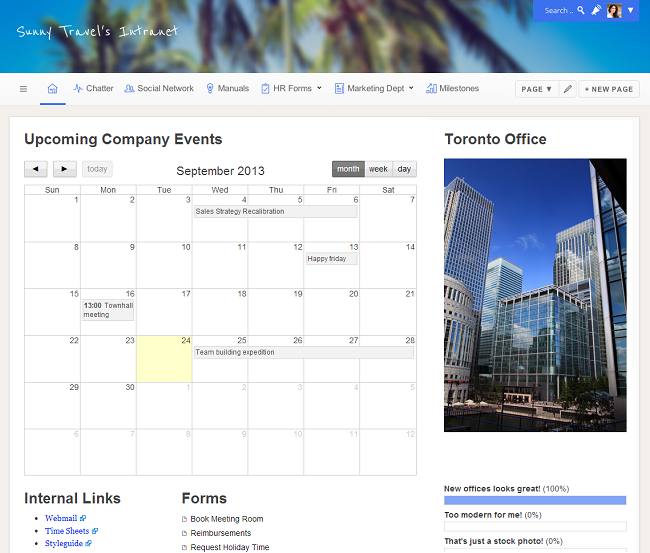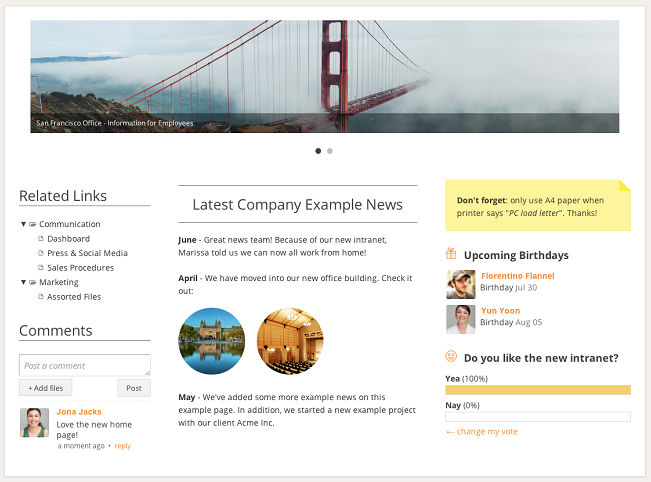 Not using Papyrs yet? Give it a try — free trial!