Create an internal website for your company, the easy way
Having a website is important of course, but what about a website for internal use, a place for employees or clients to find and share information. A way to share and work together, more effective, efficient and interactive than sending around emails or Word attachments. Most website builders are designed for public sites though, and the tools for internal sites, or intranets, usually aren't that easy to use. That's what Papyrs is for: building a modern and responsive internal company site or wiki with an easy drag&drop interface.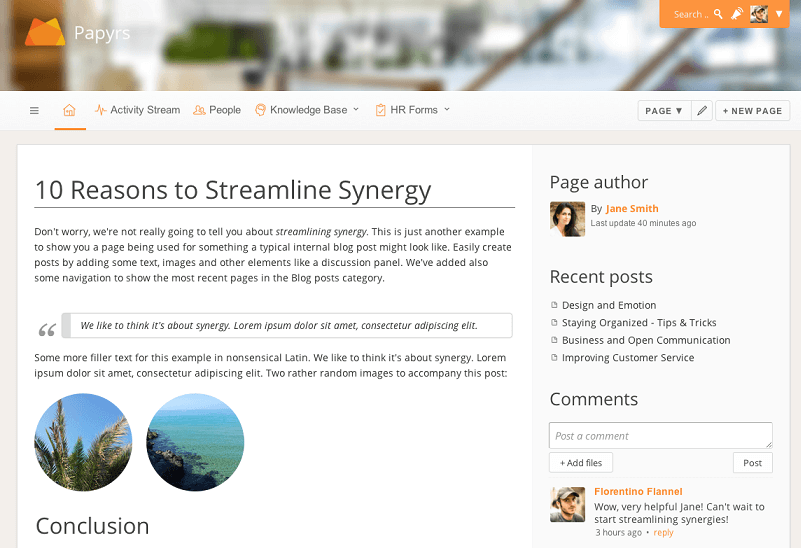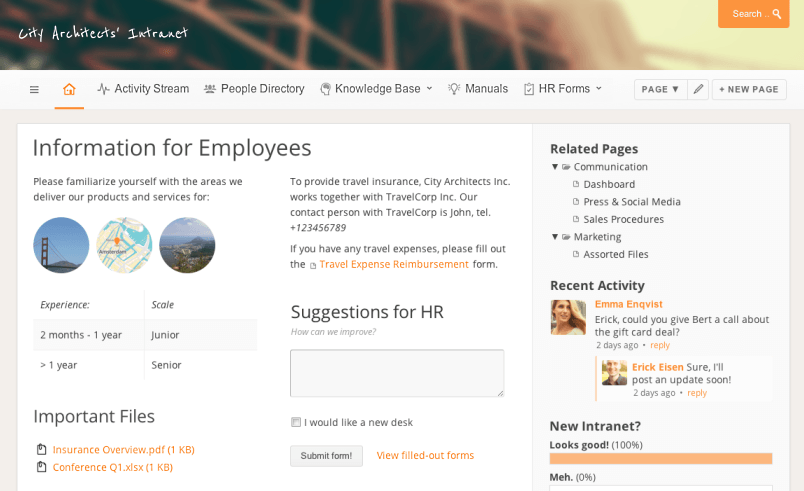 All the features you need for an internal site. Some highlights:
A website only your employees can access
Pages can only be accessed after logging on to your company's Papyrs site, so every page is password protected by default. Additional permission settings allow you to specify who exactly can access which pages, who can edit those, and who are administrators in your organization.
Drag&drop editor
The more content is shared within the company's site, the more useful it becomes. That's why we focused on making it very easy to create pages and share information.
A lot of information is often shared as text-heavy wiki-like document pages. Our editor makes it easy to write these text documents, just like a word processor.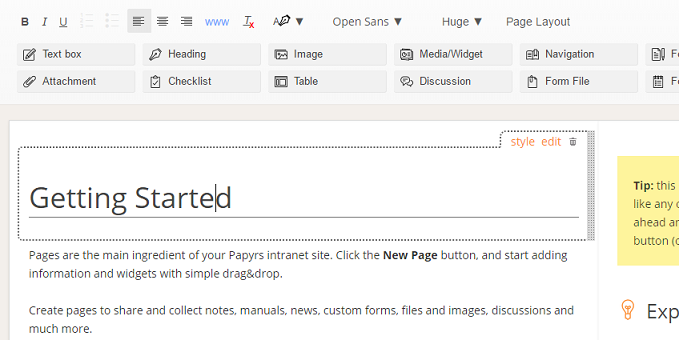 Rich interactive internal web pages don't stop with just text documents, however. Use the editor to add all kinds of widgets to your pages with drag&drop, from image galleries to polls, discussion areas and files you wish to share. You can just as easily use the same editor to build online forms on your pages, to collect structured information in a form database.
One easy-to-use editor to share all kinds of information pages: manuals, procedures, news posts, dashboards, blog posts, project pages, internal document sharing, HR forms, social media widgets, and so on.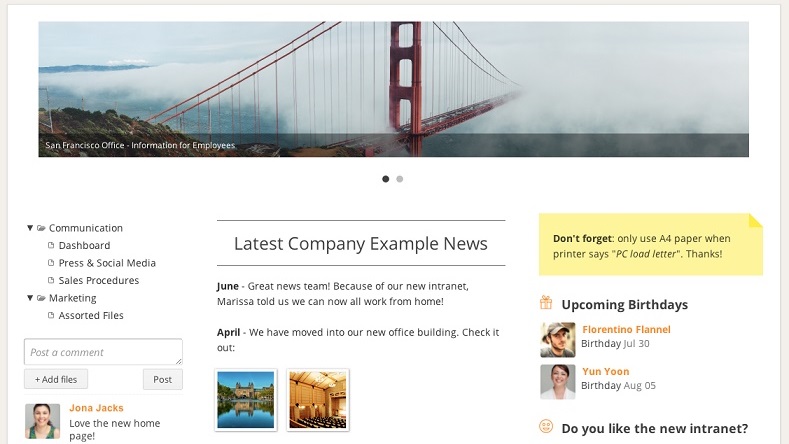 Version history
Don't worry about losing data. Each page comes with a full version history, so it's easy to go back in time, compare two different versions of a document, and see the activity for a page.
Instant search
Papyrs comes with a completely customizable menu bar to allow for quick navigation between pages. Sometimes though you already know what you're looking for, just not where to start. The built-in search finds your keywords back in an instant across files (even within Office documents and PDFs), pages, discussion comments, forms and people in the people directory.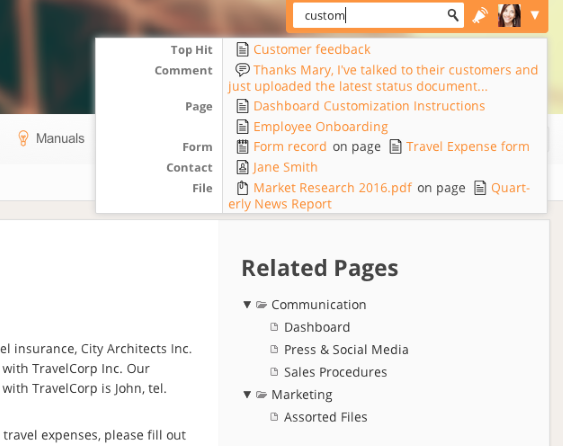 Theme Editor
Even though the sites are for internal use, why not make them look better and more engaging with a theme that matches your company's branding. Use Papyrs' theme editor to change the color scheme, logos and so on.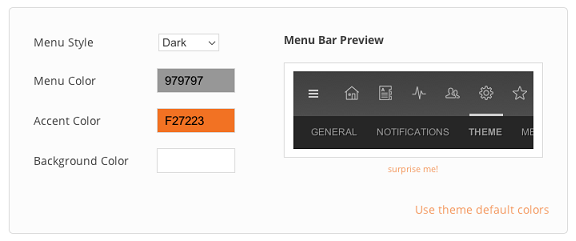 Single Sign On and integration
If you're already using a Windows network with Active Directory, or if you're using Google Apps for Work, employees can access the intranet site without having to re-type their password if they're already logged in to their computer or Google Apps. Other features like a custom domain allow you to use your existing company domain name (like intranet.yourcompany.com), and our API can be used to integrate with other apps you use.
Get started in minutes - nothing to install
Have your intranet site up and running in minutes. No technical knowledge required! Papyrs is fully hosted in the cloud by us, and specifically designed for companies and organizations to build their own internal wiki or website. We take care of the servers, software maintenance, security updates, backups and so on, and you automatically get access to new functionality and fixes. That way you can simply focus on sharing information and collaborating, without the need to install, configure and maintain complicated software. No server administration, no need to order custom-made software, no hassle with html files or configuring and updating software plugins like Wordpress and Drupal.
Get your new intranet today!
Papyrs works "out of the box", directly from any modern browser. No installation or technical knowledge required. Sign up for the free trial and start with your new intranet today!