Modern & Easy To Use Cloud Intranet Software
Everything in one place
A secure central repository where people in your organization can find all relevant documents, manuals, checklists, shared files, procedures, online employee forms, and so on.
Launch it today
Building an intranet for your company is easy with Papyrs. Create pages and add content with a familiar editor, no technical knowledge required. The same goes for other tasks like customizing the theme and colors, adding a menu bar or online forms: it's all drag&drop.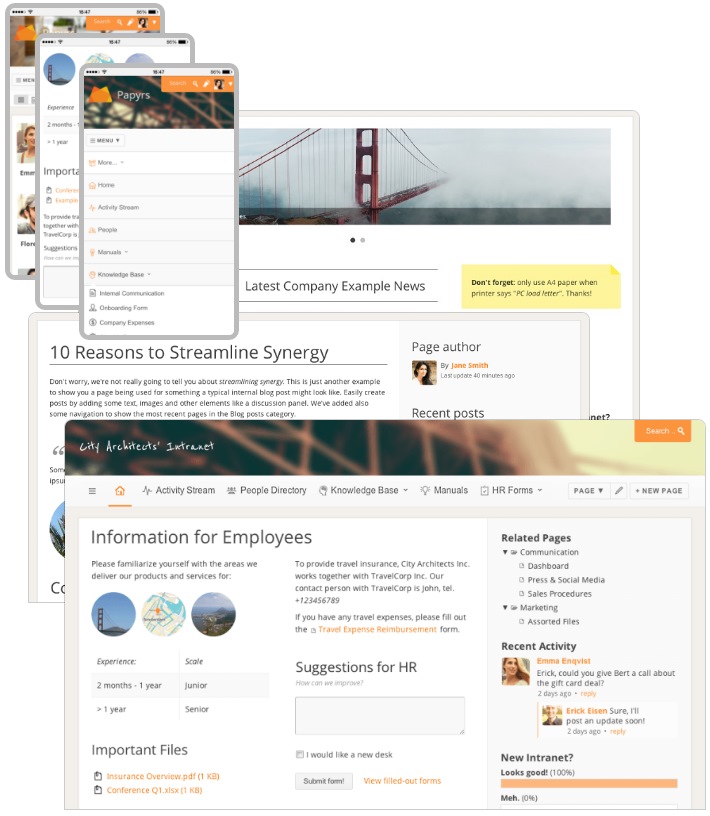 With our free online trial you can get started right away. Use any of the existing templates, add new content and invite others when you're ready. Build out your intranet over time by allowing everyone to edit pages, or simply assign a number of administrator users who will keep things up to date.
Cloud-based, yet built for secure internal use
Papyrs is a cloud based intranet solution (SaaS, or Software-as-a-Service), meaning it is fully hosted by us. We take care of the servers, software maintenance, applying the latest security patches, backups, and you'll automatically get access to new functionality and fixes.
No need to install anything, buy or maintain server equipment or computer networks, contact IT or hire technical consultants to make changes or set things up, no complicated deployment phases. In other words, we'll keep everything running smoothly, so you can simply focus on posting relevant information or discussions on the intranet.
Your intranet is always on and accessible from anywhere. On the road, working from home, or multiple offices? Simply point your browser to your company's Papyrs site and log on. Works with all modern browsers on Windows, Mac, Linux, iOS and Android.
Internal company site
Cloud based in this case doesn't mean public, however. Papyrs is built for sharing internal information, so everything you share is private to staff members by default. We have additional permission options available to make certain pages available only to certain groups of people.
Security, Data Export & Single Sign On
You can even integrate Papyrs with existing Active Directory networks to use Single Sign On. We also provide integration with Slack, and G Suite (formerly Google Apps for Work) if your company uses those.
We believe data hosted in the cloud shouldn't mean it's trapped or difficult to export when needed. That's why we offer our data export feature for administrators to download data if necessary.
Other security features include two factor authentication, audit log or IP-address filters. Read our security policy for more details.
Perfect for small to medium sized businesses
All the features you need to start an internal company site, without the complexity or requirements for training and consultancy services. Everyone can get started right away. Papyrs is a modern and easy take on wikis and company intranets, perfect for companies from a dozen up to a thousand people.

See some reviews and testimonials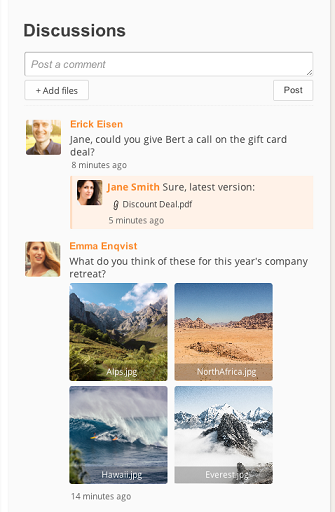 Improve communication
With Papyrs it's easy to contribute and post new content, from discussions to knowledge base pages to quick status updates.
Find anything in an instant with our built-in find-as-you-type search. Collect feedback and process requests with online forms.
Increase employee engagement
An employee portal with quick answers to questions, an internal people directory, profile pages, integration with social media widgets, or daily digests with everything that's new; everything is included to make work easier.