An intranet for G Suite (Google Apps)
Papyrs is the easiest intranet platform for G Suite (formerly, Google Apps). Create an intranet site to bring together, collect and share all your information. You can create rich intranet pages with drag &amp drop and add all kinds of information, social media widgets, discussions and more. Papyrs also allows you to build custom online forms to collect data and process all kinds of requests.
You can add content from your Google Apps directly to these pages, such as a shared staff calendar or important documents. This makes it easy to combine, organize and share all kinds of content from your domain on rich intranet pages, or to create dashboard overviews. Papyrs can also be used as a bridge between your domain and external clients or users outside your domain, by simply inviting them to collaborate on a page. With social features like activity streams and a people directory, your Papyrs intanet is a great way to centralize communication and add social networking features to your Google Apps for Work domain. A start page for your Google Apps domain!
Below you can find an overview of the various Google Apps integration features.
Google Docs and Google Drive
If you're using Google Apps, you're likely to already have a lot of documents stored on the domain's Google Docs or Google Drive. To organize related documents, or collaborate on some project with colleagues, you can add any of these documents directly to a Papyrs page.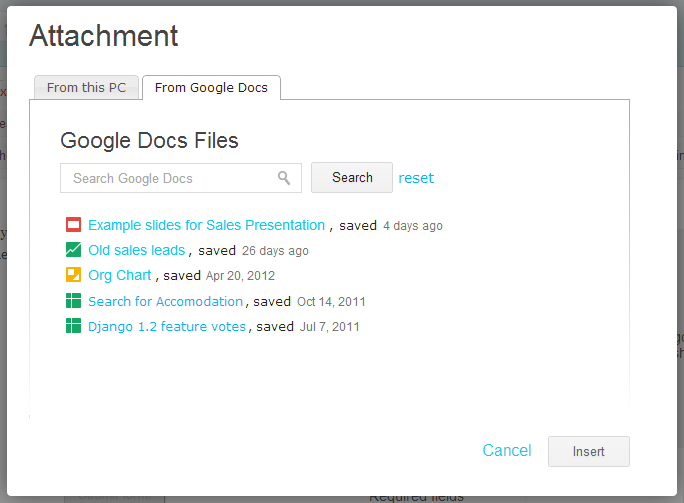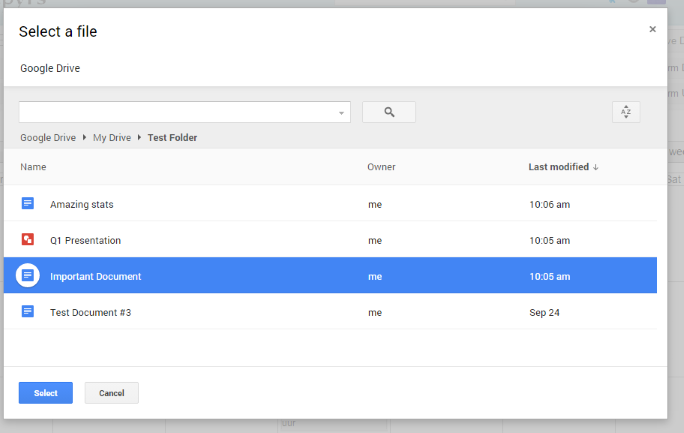 From Papyrs you can browse the documents available to you in Google Documents / Google Drive, and add any of the files you want to a page.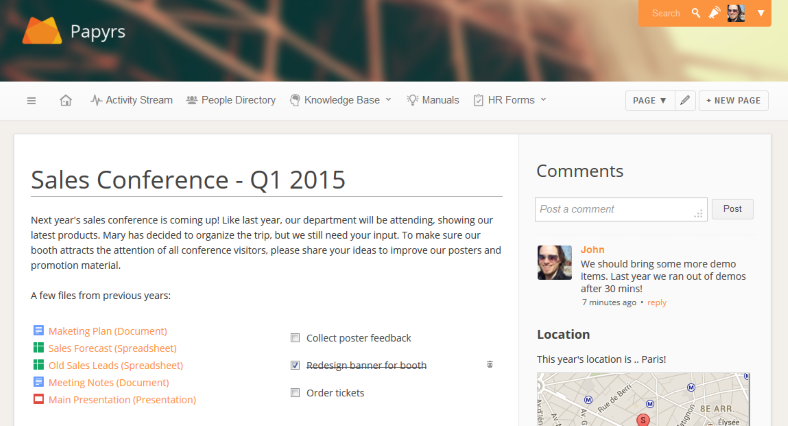 Here's an example of a page about organizing a conference trip, with some related files from the Google Apps domain. Of course it's also possible to upload files directly to Papyrs.
Embed content
Next to adding documents from Google Apps as attachments, you can also directly embed Google Documents onto a Papyrs page. In the example below, we've embedded an interactive chart from a Google Spreadsheet on a Papyrs page. To embed this chart, we just open the spreadsheet in Google Docs, go to the chart, and click Publish chart. We then add a Media/Widget to Papyrs, and copy&paste the code from Publish chart into the Other widgets tab. If we edit the spreadsheet in Google Docs, the chart on the page is automatically updated.
You can read more on embedding documents at Embed Google Docs and Calendars on your intranet.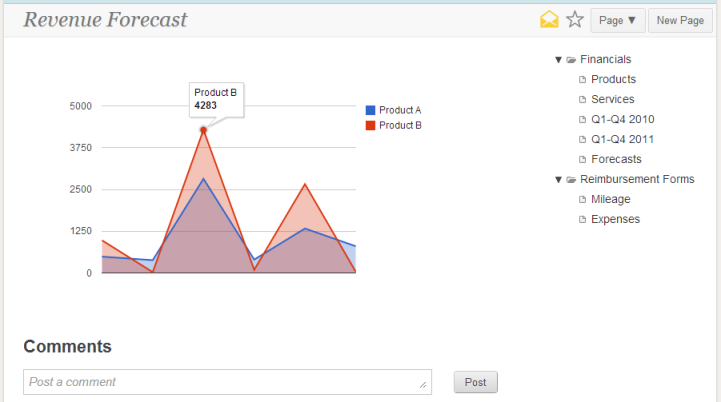 You can also embed other Google widgets, such as a Google Maps widget.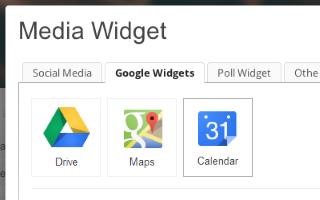 Google Calendar
To add a Google Calendar to a page, just edit the page, and add the widget under Media/Widget > Google Widgets > Calendar. You'll see a list of Google Calendars accessible to you which you can add. Depending on the layout of your page and the size of the column you place the calendar in, you can get a full interactive calendar, or a list of events.
You can add multiple calendars to one page, and add a calendar to multiple pages. You can also combine them with other Google Apps widgets, to create overview dashboards for example. By sharing the page with people outside your domain, they too can easily view the calendar events. Some example views of the calendar: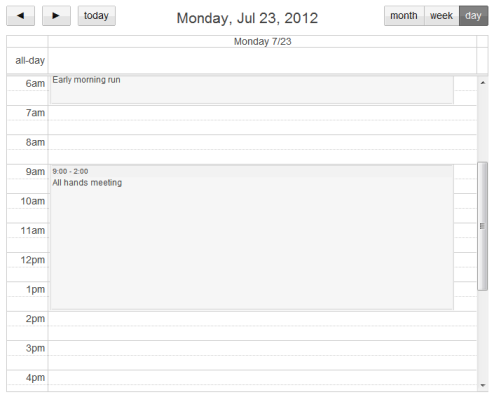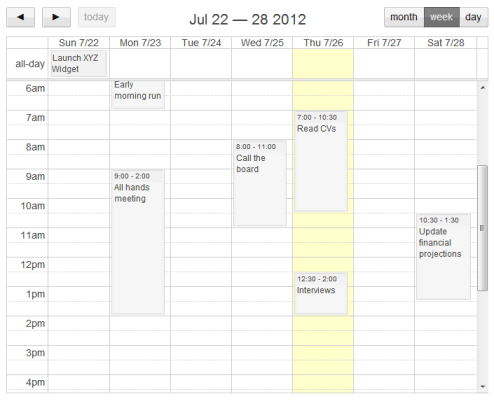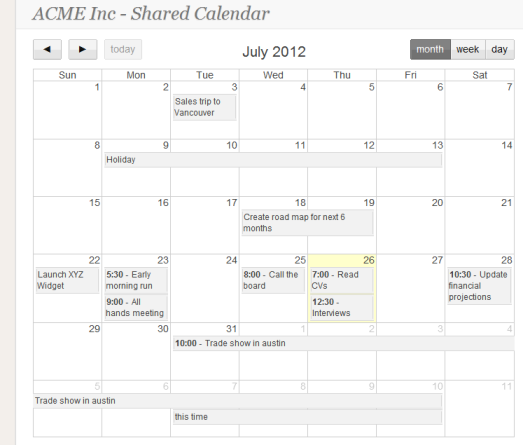 Integrated Search
Papyrs offers fast, find-as-you-type search functionality. Simply type in what you're looking for, and Papyrs searches through all pages, comments, filled-out forms, and even inside any attached documents. If you're using Papyrs for Google Apps, Papyrs will also instantly return any documents (which are accessible by you) on your domain's Google Drive/Documents, matching the keywords you're looking for. All your information at your fingertips.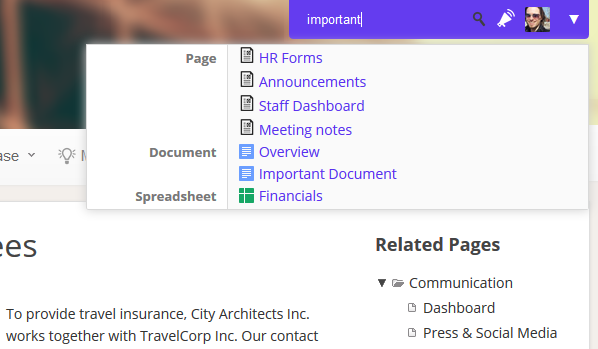 Email notifications
Papyrs can keep you and your colleagues up to date about the latest activity on the intranet by sending out email notifications. You can receive notifications for page updates, new comments, and new form submissions in your Google mail account.
Single Sign On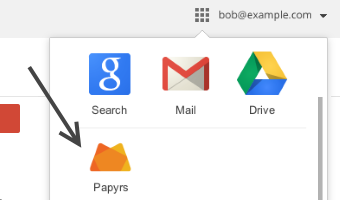 People in your Google Apps domain can access Papyrs directly from the Google Apps Navigation bar. As Papyrs supports Single Sign On with Google Apps, no additional password is needed: once you're logged on to Google Apps, you can log on to Papyrs with a single click.
From the People Settings screen in Papyrs, you can easily invite everyone in your domain to the intranet. Of course you can also just invite a select group of people, or add/remove people later on. Select the people you want to add, and we'll send them an invitation email, which can contain a custom message/subject to help them get started. People can also join themselves by selecting Papyrs from the menu above. As administrator, you can also set default permissions to restrict new people joining from accessing existing pages and forms in Papyrs.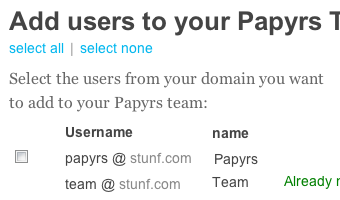 Staff Directory
You can also use Papyrs as a staff directory for the people in your domain. Everyone invited to Papyrs is shown in the people directory. People can create their own profile pages, so you can easily find back people and view their (contact) details.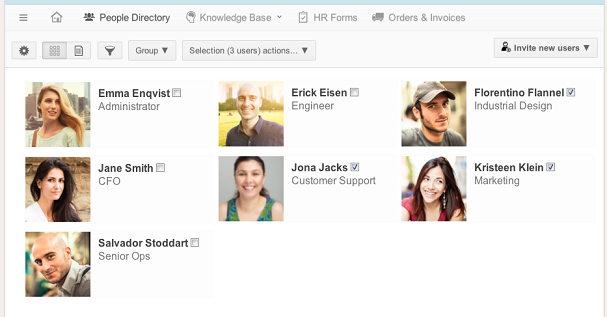 Google Analytics
If you're a user of Google Analytics, you can also use it track the usage of your Papyrs intranet. Simply add the Google Analytics ID in the Papyrs settings screen, and you'll be able to view statistics about your internal page views.

Not using Papyrs yet? Give it a try — free trial!
Not using Google G Suite? No problem — Papyrs also works without: