Start an engaging internal website in minutes
Papyrs was specifically designed to make it easy to start a modern and responsive internal website for your organization. Like public sites, internal sites are useful for sharing all kinds of information and making it easy to find it all back. There are many tools to help build these public sites, but internal (intranet) sites have traditionally been much harder to use and set up, and often look rather outdated. Some big differences between public and internal sites make it useful to run a dedicated platform to power your internal site. Papyrs focuses on those requirements and priorities for an internal site: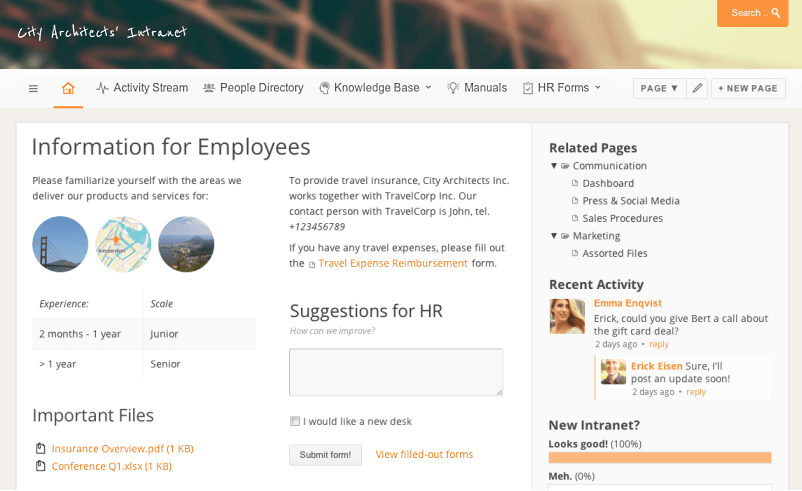 Easy updates
A public page is usually maintained by a specific person or department. The same can be true for an intranet, but in many cases it's useful if everyone can contribute to the intranet. The more people share knowledge and add wiki-like pages, contribute to discussions and submit requests, the more useful an intranet becomes. That means there shouldn't be any barriers or technical knowledge requirements for people to use the system. Everything's just drag&drop.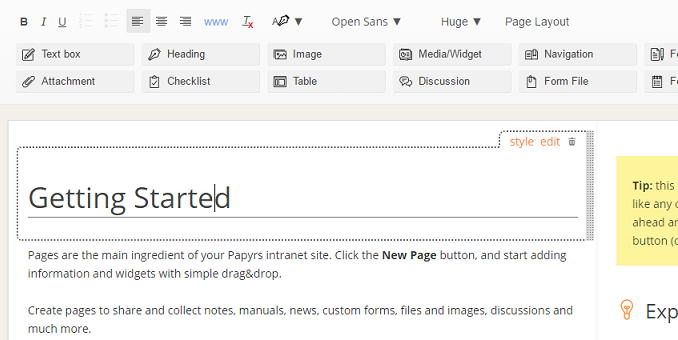 Security, Permissions and Access controls
Your Papyrs intranet can only be accessed by people who can log in to the site, and they only see pages they can access. It's possible to explicitly mark a page as "Public", or share a page with someone outside your organization via a secure share link, but default permissions only grant access to people with access to the intranet.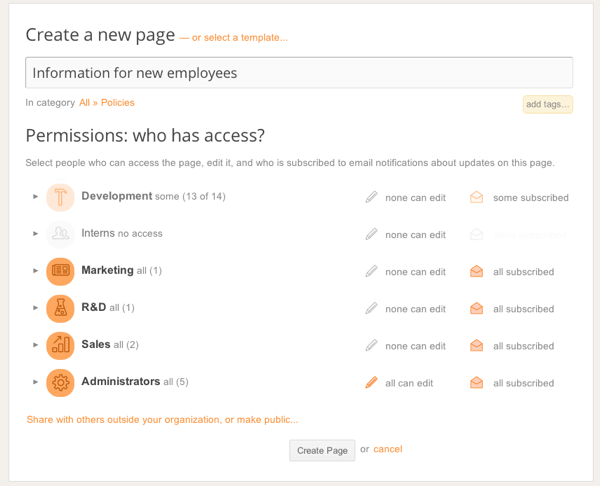 Integration and Single Sign On
Your company intranet site can work as dashboard of sorts by combining information from all kinds of other sources and software your organization uses. Papyrs offers widgets to add third party content, as well as an API to integrate existing systems. Another important aspect is making it easy for people to log on accross many different systems. That's why Papyrs integrates with Active Directory (LDAP), G Suite (Google Apps), and Slack for Single Sign On. (Integration is completely optional of course. Everything's built-in to Papyrs to get a complete intranet site up and running in minutes.)
Powerful Search
Search engines cannot access internal sites, so they need their own search functionality. Papyrs has built-in find-as-you-type search which makes it easy to find back content on pages, files, discussions, form records, and people. The search even finds text in Office documents and PDF.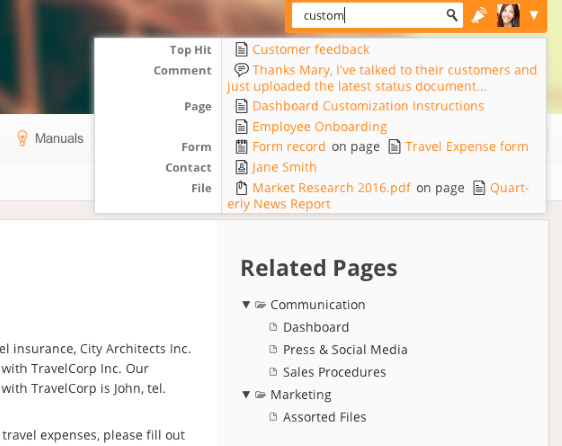 Communication, Interactive Widgets & Online Forms
Some intranets are like wiki's an mainly contain pages with manuals, procedures, and so on. In many cases the intranet is not only to inform, but also collect opinions, a place for discussions and processing requests. Next to writing documentation pages with Papyrs' editor (WYSIWYG), the editor also comes with a number of interactive widgets for this purpose. From a Discussion widget, to polls to custom online forms.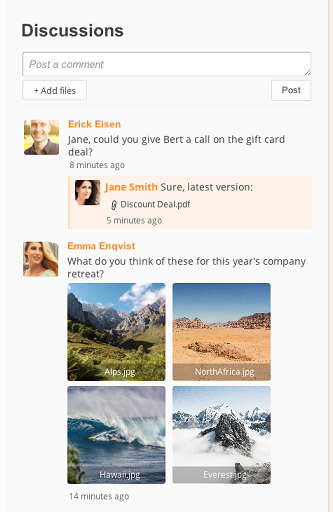 Notifications and Activity Feed
A lively intranet will see many more updates than a public site. Stay on top of updates with notifications, email digests or the activity stream. Papyrs can inform you when pages you're interested in are updated, when a new post is added, new forms are submitted, and so on.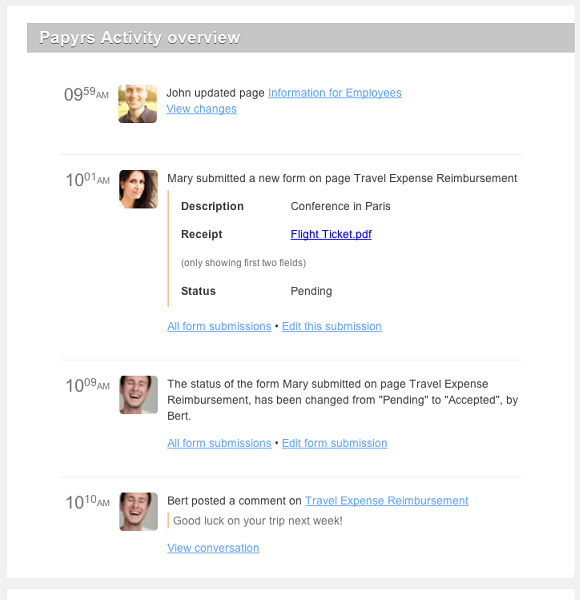 Versions and Backups
Internal sites often contain many document pages where it's important for people to see who contributed what. Papyrs comes with a full version history for each page, so you can go back in time for any page, or select two versions. We also take care of backups and, of course, you can export your data at any time, if needed.
And much more...
Want to give it a try? You'll be up and running in minutes. Papyrs is fully hosted by us, so no need to install and maintain web servers or other software.