Automatic Backups
Backups are a crucial part of any document system. With Papyrs there are multiple backup systems in place. Every night we make backups of all your Papyrs data. In addition you can create a personal backup of your Papyrs data for your own use.
All Papyrs pages use versioning so you can always view/retrieve/restore a previous version of a page.
All data is stored on multiple physical hard drives so if a drive fails no data will be lost.
All data is replicated on different physical servers so when a single server goes away no data will be lost.
In addition nightly backups are created of all data (customer data, emails, pages, attachments, etc). Multiple sets of backups are archived to prevent data loss in case of backup corruption.
The nightly backup sets are also copied to several physical locations, just in case.
We take every measure we can think of to keep our customer data as safe as humanly possible. See our
security policy
for related information.
Manual Backups
Account administrators can create a one-click backup of their entire Papyrs site. Administrators can find the Backup page under
Site Settings > Subscription > Manage Backups
.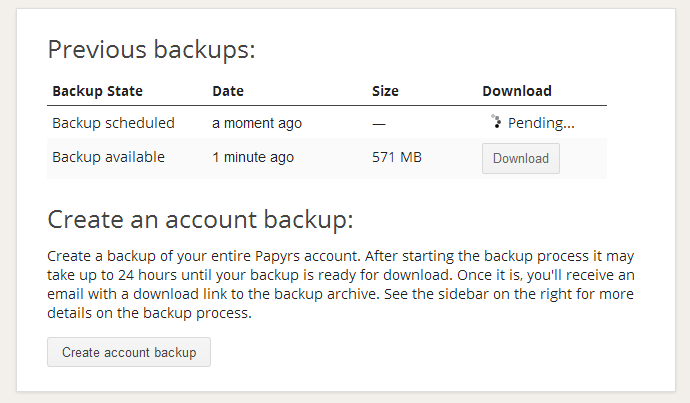 The backup archive contains:
Pages, with

Headings,
Paragraphs,
Image Galleries,
Checklists,
Attached Files,
Images,

Forms, with for each record:

Meta information,
Record data,
Attached files,
Pages are exported as HTML. This way you can easily browse through the pages to ensure all data is present. Backups are kept available for download for 14 days.
After starting the backup process it may take a while until your backup is ready for download. Once it is, you'll receive an email with a download link to the backup archive.