Small Business Intranet and Wiki
With a growing business comes a growing amount of information: manuals, procedures, best practices, ideas, important documents, sales leads, expenses.. the list is endless. Organizing all this information and processing all these workflows increasingly becomes more and more work. It might be a small business, but simply using sticky notes doesn't work anymore, and spending all this time on sharing and finding back information is a huge waste.
Creating a small company intranet / small company wiki
An intranet is a great tool to bring all people and knowledge together. For a small company, traditional corporate intranet solutions might not always be a good fit. When running a small business the thought of having to spend money and time on employing IT/technical consultants, deploying an intranet over the course of months, and training staff to use a complicated system is daunting.
With Papyrs we want to provide small businesses with a platform they can use to set up their own company intranet. Lightweight, affordable, and easy to use. It's kind of like a wiki for businesses, or an internal company website. And the only thing needed to set it up or make changes is to use our drag&drop editor to create pages to share all your information and automate your workflows.
Not using Papyrs yet? Give it a try — free trial!
Benefits of a Papyrs intranet for small businesses
Ideal for small and medium businesses: all the features you need, none you don't.
Easy to use, no need for any IT staff or technical contractors.
No software to install, or servers to maintain. Works right from your browser or mobile, accessible from anywhere.
Get started in minutes.
Share and capture knowledge, files, content, and media.
Collect forms and automate workflows.
Easily create a staff portal, internal company website, corporate intranet or wiki, or company social network. All with drag&drop.
Change the design to match your company's style.
Your Papyrs intranet can grow with you. Upgrade any time if you need more staff, features or storage.
Keep your team up to speed using the activity stream
Fast and advanced intranet search: find anything back in seconds.
Fast & friendly support: we're happy to help!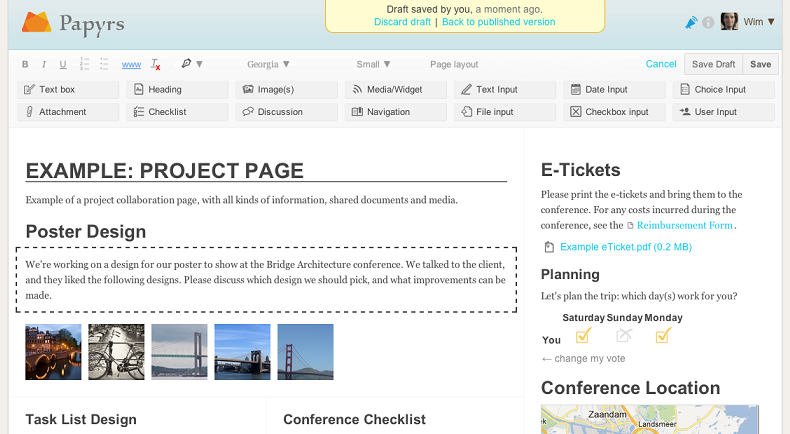 Not using Papyrs yet? Give it a try — free trial!