In order to make navigation easy for Account administrators Papyrs has a User Profile Menu and a User Options Menu. On this page we'll go through the functionality of both.
The User Profile Menu
This is the menu you get when you click on your profile picture in the Upper right corner: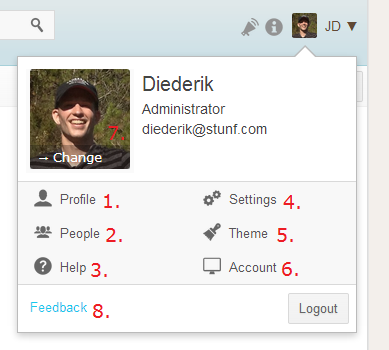 From this menu you can quickly do the following, if you're an account administrator. Regular users and Limited Users may see fewer or no options at all.
Profile – Go to your user profile
People – User management. Add users to your team, remove users, change permissions, etc.
Help – Links to these help pages.
Settings – Your personal account settings. Here you can change your email address, timezone and email notifications
Theme – Theme Settings. Change the appearance of your intranet.
Account – Account Settings. Here you can manage your subscription and billing information.
Profile Picture – Change your profile picture (by clicking on your picture)
Feedback – Contact customer support
The User Options Menu
This menu is part of the Admin Console and allows Administrators to change the preferences of other Papyrs users. If you click on a user's profile picture you get the User Options Menu. This menu can be reached wherever you see profile pictures in Papyrs: the User Directory, the Discussion Stream and the comment section of a page.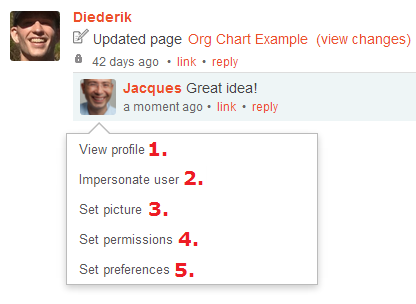 View profile – Go to this user's profile page
Impersonate User – This allows you to see Papyrs exactly as this user would. Read more about User Impersonation
Set picture – Change this user's profile picture.
Set permissions – Change the page permissions of this user.
Set preferences – Change this user's display name, email address, password and user role.