LinkedIn on your intranet
You can easily embed a LinkedIn profile, company card, or other widgets on your company's intranet pages. Integrating LinkedIn on your intranet is a great way to view details on related companies right on a dashboard page, or view LinkedIn details from people on their profile pages, for example.
You can add a LinkedIn widget to any page in Papyrs, just using drag&drop or copy-paste. Just follow the steps below:
Select the LinkedIn widget you want to embed on your intranet. You can find them in the list of available LinkedIn plugins.
There are plugins for both people and company profiles. As an example, let's use the Company Profile plugin, which contains a summary on the company and a Follow button. Change the preferences of the widget, like filling in the company under Company Name, and select options like Show Connections. When it looks good, click Get code.

Copy the code



Go to your Papyrs page to which you want to add your LinkedIn widget.
Select Page > Edit Page to edit the page.


Drag a Media/Widget to your page, and select the Other widgets tab.



Paste the embed code, and save the page!

That's it!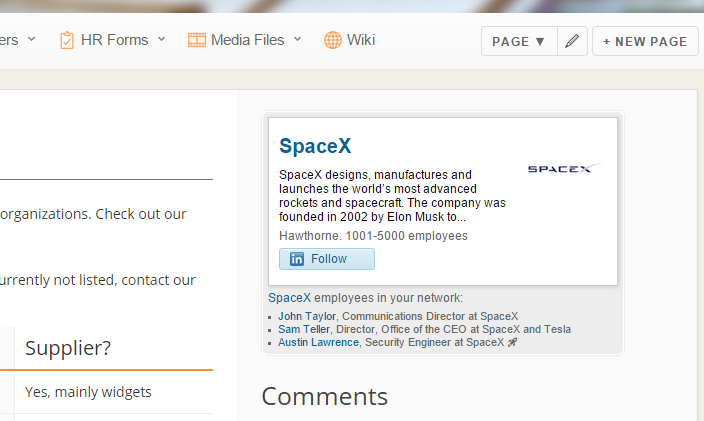 Not using Papyrs yet? Give it a try — free trial!