Papyrs Permission Management / Bulk Permission Assignment
You can set the permissions of every Papyrs page so people will get exactly the appropriate level of access. You can choose between several permission levels: No Access, View Only, View & Submit forms, View & Manage forms, or Full Access for every page and for every user. We have more information about permission levels and user roles.
However, if you have hundreds or thousands of pages it's no longer convenient to set all the permissions individually. This is where bulk permission assignment comes into play. With the Bulk Permission assignment tool you can assign the permissions of many users and many pages in a few clicks. You can then use User Impersonation to verify that the permissions are set up correctly.
You can find the Bulk Permission assignment page by navigating to People » Edit Permissions: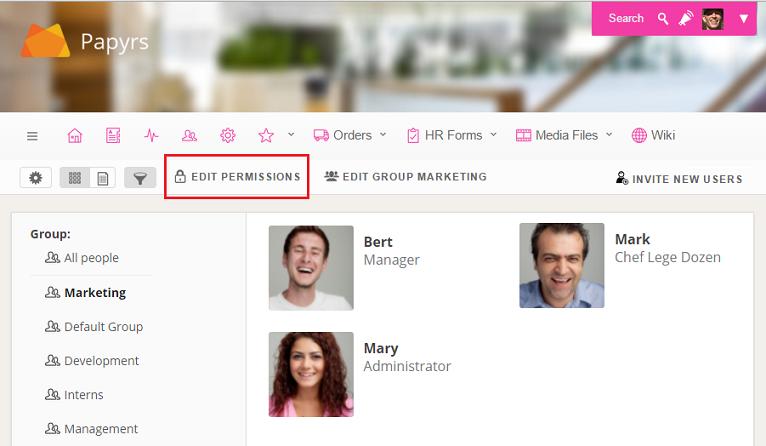 Assigning permissions
When you click on "Edit Permissions" you'll see a page that looks like this. Here you can set permissions for multiple pages and for multiple users at once.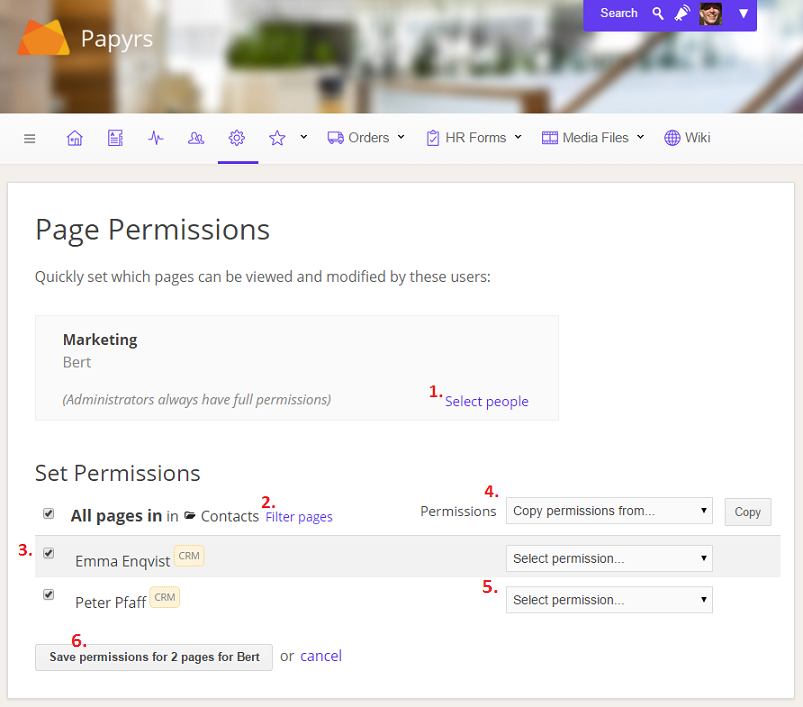 First you select which people you want to set permissions for. If you click on "Select people" you'll get a window where you can select individual people or groups to set permissions for.
(optional) You can use the Filter option to choose which page permisisons you want to update. For instance only pages in a specific folder or only pages with a given tag.
(optional) You can use the checkboxes to the left to exclude individual pages. Uncheck the boxes and the permissions for those pages will remain unchanged.
(optional) You can use the dropdown box to copy permissions from an existing user or to set a default permission. Click on Copy to copy the permissions.
Now you can select the permissions for individual pages. Select the appropriate permissions for every page from the list.
Does everything look right? If so, time to save. Click "Save Permissions" and the new permisions will be saved.
That covers how you can save permisions for multiple pages at once. To read more about the basics of how permisions work in Papyrs check out the
Permissions documentation
.