Like Wordpress, but for Intranet sites
Building websites and systems has traditionally been very expensive and complicated. Luckily more platforms and tools become available to allow people to build these sites themselves, without the need for any technical knowledge, and in a fraction of the time. One such popular platform is WordPress: a blogging engine at heart, it's also being used more and more as a CMS (Content Management System) to create websites.
If, however, you're looking to set up a company intranet - i.e. an internal website, you're options are much more limited. This is what we're aiming for with Papyrs: to be the platform people can use to easily build their own intranet, just like people build websites and blogs on WordPress. Compared to WordPress, Papyrs is built from the ground up with building intranets in mind. Compared to other traditional intranet CMS systems like SharePoint, every feature and screen in Papyrs is designed to be user-friendly, requiring no technical knowledge or consultants to set up: it's all just drag & drop.
Building an intranet vs building a website/blog
So what makes an intranet different from any other regular website or blog? Let's have a look at some important differences and features for an intranet:
Private by default
The audience of the intranet is different from a normal website or blog: it contains important information to be shared within a company. This means people need to be able to log in to access the intranet (or in some cases, the intranet is only allowed to be accessed from a certain IP address, using IP filtering). Individual pages can still be shared with external people (like client or contractors), even with the public (extranet).
Permission (access control) settings
The content of an intranet can be very dynamic. For example, consider a knowledge base with operations manuals, internal wiki pages, or pages with important documents that need to be updated regularly. Not everybody in the team should be allowed to edit all pages, or even access them. This means it must be easy to revoke/grant rights and roles to new pages and people.
Interactive Forms and Form Builder
For many businesses the intranet is a great tool to move away from paper or Excel-based forms which are hard to manage, collect and update. This is not an important function for traditional web sites and blogs, which might contain only a contact form. We think it's essential for an intranet platform to allow users to build their own custom interactive online forms and databases, create reports and handle workflows: from HR forms (travel expense claims and reimbursement, mileage forms, paid time off/holiday requests, book a room, ...) to surveys, event registration, order forms and so on.
Dynamic Navigation
Navigation is an important part of any website, and this is no different for an intranet. Compared to regular websites, intranets often contain many more pages (hundreds or thousands even). This means menus and navigation must be able to deal with hierarchical categories, dynamic lists (such as recently commented pages), and of course take into account the various permission settings.
Integration Search
The intranet is a powerful tool as a central database for all information, documents and files. An integrated, fast and find-as-you-type search, indexing all documents and pages is crucial to find back any page, discussion or file in an instant.
Version History & Notifications
Receiving email notifications on every post update or new comment might not be so interesting for a blog, but it can be very useful for an intranet. Who changed which page, what has been changed and when, did I get new replies to my question thread?
Social intranets: Activity Stream, Microblogging & a People Directory
Communication and an overview of what's going on in a company or department is an essential part of online collaboration. An activity stream is a great tool for this: a feed shows you at a glance what people are working on and what discussions are being held. A more social intranet also improves engagement and makes it easier to get answers to questions. Together with a people directory and user profiles, they're often used features in an intranet but not a natural fit for an ordinary website builder or a blogging platform like WordPress.
Papyrs provides all these features and more in one platform: everything is built right in, no plug-ins needed, no version conflicts, nothing to install or configure. Just create an account and get started in seconds.
Not using Papyrs yet? Give it a try — free trial!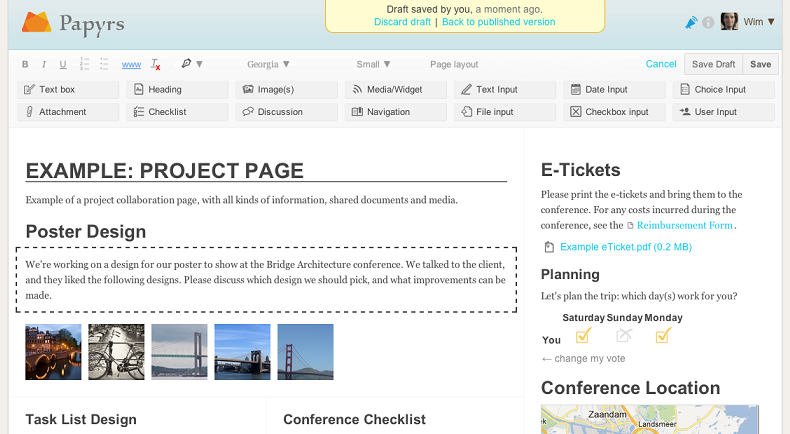 Building an intranet, with the ease of building a blog
Although some of the functionality of an intranet is more complex than that of a normal website, our goal with Papyrs is to make building an intranet as easy as writing a document or creating a blog. We're very proud of our drag & drop rich editor, which we designed from scratch to make this possible. You can use it create intranet pages ranging from wiki-like documents to dashboard pages with complex lay-outs and various widgets, as well as building forms. There are widgets for rich text, image galleries, polls, social media (such as Twitter, Facebook, LinkedIn, Google integration), form inputs, attaching documents and other files, check lists, and so on.
You can also change the look & feel of Papyrs, by customizing the theme, logos and colors.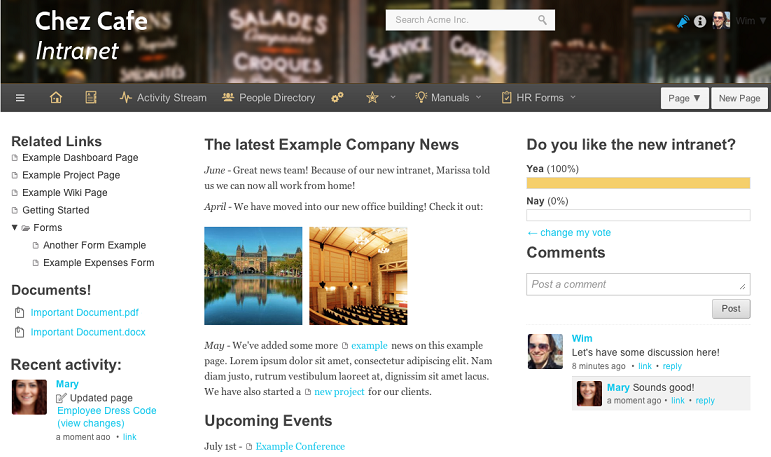 Finally, we take care of all the hosting for you. That means there's nothing to install, configure or maintain, and no need to worry about security updates! Simply sign up at www.papyrs.com and start building your intranet, no technical knowledge is required. We also provide fast support, so if you have any questions or comments, just let us know!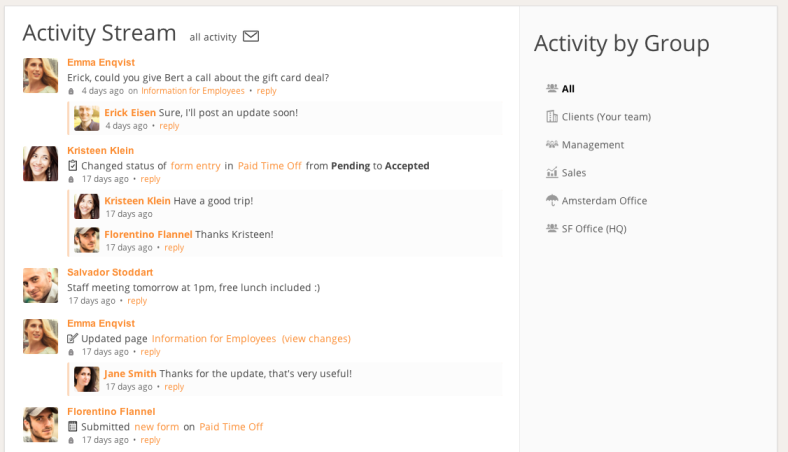 Read more at
Online intranet software
.
Not using Papyrs yet? Give it a try — free trial!